Libido Loss
Overview
Changes to libido are common in men and women in their 40s and 50s. Women are 2-3 times more likely to be affected by a decline in sex drive as they age. Having a fluctuating desire for sex is a normal and healthy part of life. Your sex drive can change depending on several factors including depression, relationship status, mood disorders, pregnancy, medication, and stress. If you notice that you have little to no sexual desire, you can look for patterns in when and why this may be happening. If the problem isn't addressed by making lifestyle changes and is starting to cause worry, it might be a symptom of a more significant issue.

A person's struggle for intimacy within a relationship can be troublesome for both people involved and can cause issues such as feelings of disconnectedness, inadequacy, frustration, disappointment, and resentment.

In women, a common cause of libido loss is menopause. During the menopause transition, the physical effects of falling estrogen levels—including hot flashes, night sweats, and vaginal dryness can undermine sexual motivation and drive.
In men, low testosterone can be the culprit. Testosterone is responsible for building muscles and bone mass and for stimulating sperm production. Your testosterone levels also factor into your sex drive. When your testosterone decreases, your desire for sex also decreases.
What can be done?
How we can help with libido loss
While difficult for couples or individuals to discuss, it can be addressed by having an open and honest conversation with your partner about why it's happening and what the cause is. If you can't determine a cause and it is causing frustration or worry,  you should consult a professional who can help answer your questions, perform a full medical examination, and determine a personalized treatment plan for you to improve your libido.
We offer Treatments for Libido Loss At Our Clinic
It's possible to have a happy and healthy sex life well into old age, and a medical consultation with our in-clinic doctor can help you get back to feeling like yourself. We are a full-service private medical and anti-aging clinic in Vancouver, BC. Our medical consultations include comprehensive health assessments and preventative medicine with a focus on combating age-related diseases. Dr. Gidon Frame, the clinic's private doctor, is a certified anti-aging medical and aesthetic practitioner with over 20 years of Canadian family practice and preventative medicine experience.

BOOK PRIVATE MEDICAL CONSULTATION
Popular Treatments for Libido Loss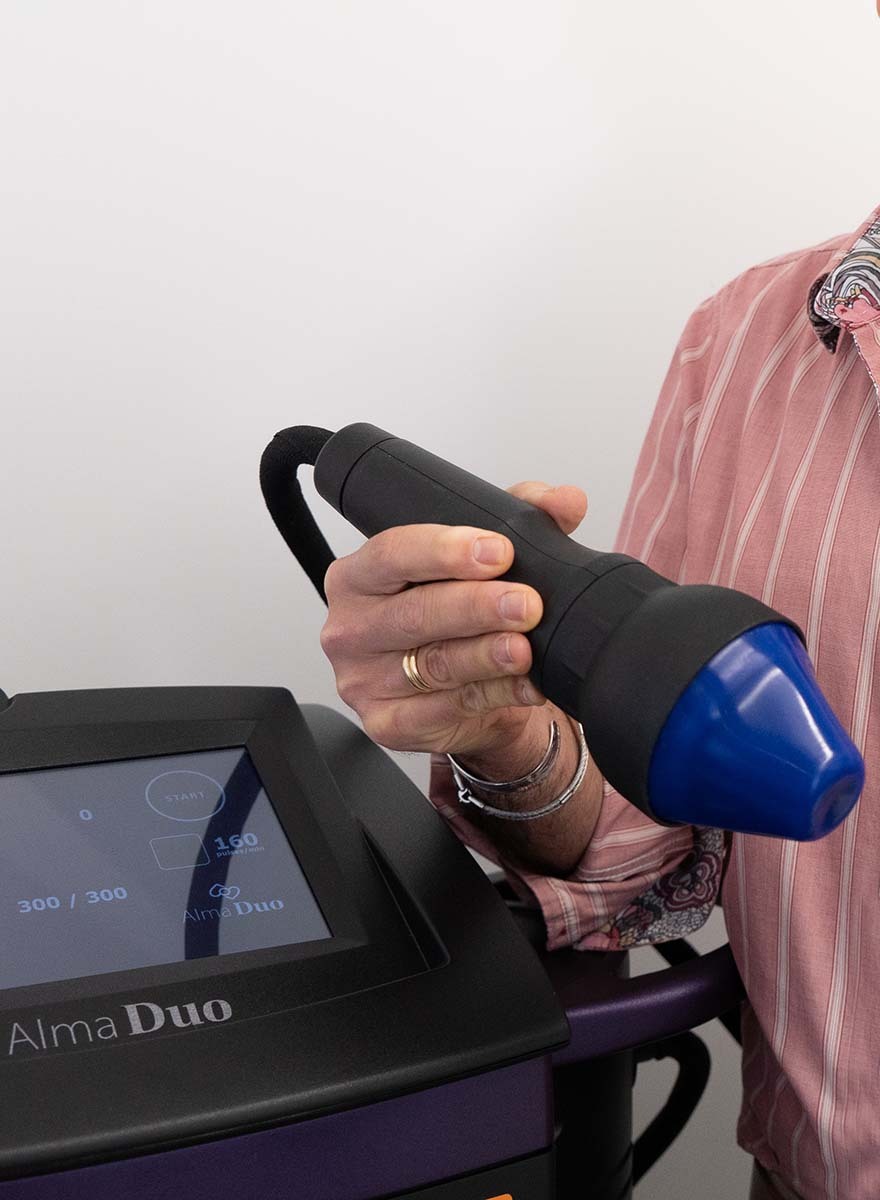 Alma Duo™
Alma Duo™
The Alma Duo is a Health Canada approved and scientifically validated treatment that sends energy deep into the tissue of the penis to rebuild blood vessels and resolve erectile dysfunction. This 15-minute treatment uses low-intensity extracorporeal shock wave therapy (LI-ESWT) at five points on the penis, triggering a natural immune response from your body. This response increases the number and strength of blood vessels in the area, promoting blood flow to the penis and improving circulatory conditions for erectile dysfunction.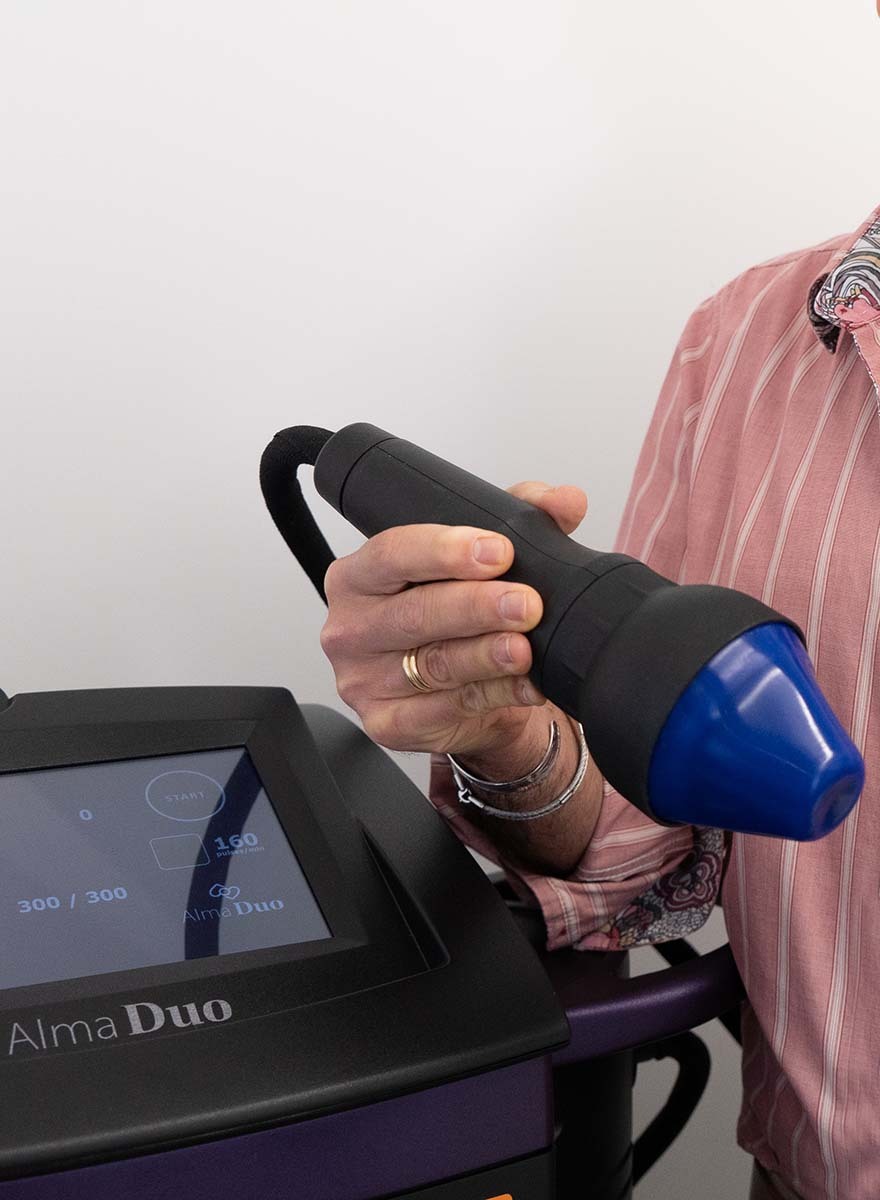 diVa®
diVa®
The diVa is a quick procedure (3–5 minutes) that improves gynecological and genitourinary health. It uses a disposable quartz dilator, which emits a precision laser beam using a hybrid fractional laser. This comfortably and accurately delivers two laser wavelengths simultaneously, improving the quality of vaginal tissue and subsequently, quality of life.
The O-Shot
The O-Shot
The O-Shot is not primarily aimed at treating libido loss, but rather aimed at improving the female's ability to experience orgasms and increase the frequency of orgasms. It has numerous benefits from boosting your sexual health, increasing vaginal lubrication, and addressing urinary incontinence. If you are considering this treatment, it is important to schedule a private health consultation with one of our doctors to assess whether it is appropriate for you.
All Treatments for Wellness
Book Your Initial Consulation in 3 Simple Steps
Enter your details and areas of concern.
Select a day and time on Jane App.
Pay a consultation fee of $125 (this fee is applied toward your treatment).
If we determine that you are not an ideal candidate for the medical aesthetic treatment you are seeking, this fee will be refunded.
Book Your Initial Consultation Now And Get A $25 Gift Card*
Need a payment Plan?
Pre-qualify in 10 seconds
Plan Details
Must be 18 years or older
Must be a Member
Pre-authorized Debit Only
0% Interest If Paid In Full Within 12 months