BENEFITS
Noticeable results 2-4 weeks after last treatment
Four 30 minutes sessions are equal to roughly 12-16 weeks of HIIT training
Doesn't only reduce fat, but contours the body
Can be used on a variety of areas
Zero downtime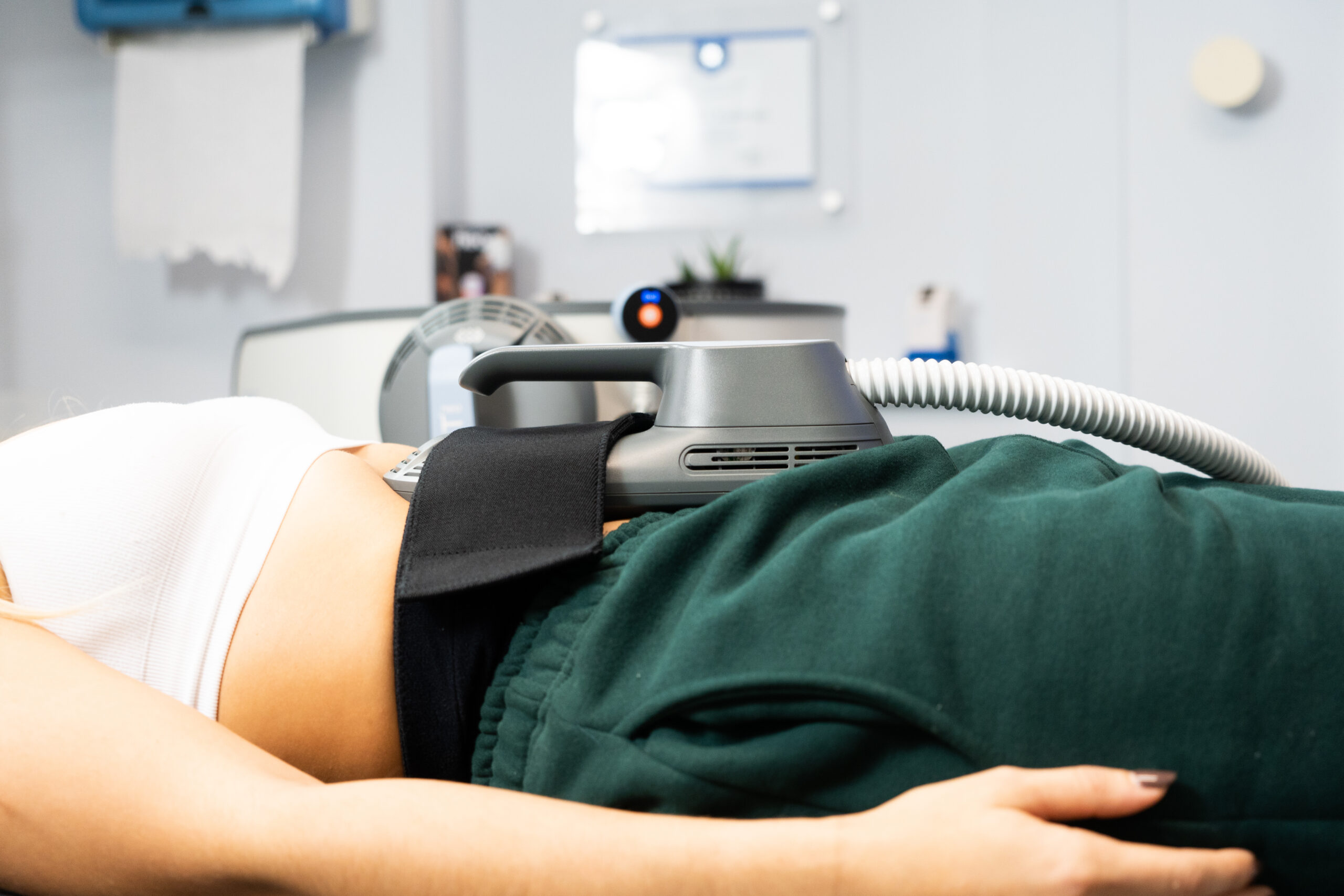 Treatable Areas
Commonly treated areas include abdomen, buttocks, thighs, arms and calves. 
RESULTS
You begin to feel tangible results right after the treatments. Positive results are usually reported two to four weeks after the last session and continue to improve for several weeks following treatment.
Toning
-30% fat reduction on average
19% Reduction of Abdominal Separation/Diastasis Recti
Waist Circumference Reduction
Muscle
+25% muscle growth on average
By building muscle, your body will not only appear toned, but feel strong
On top of reducing fat and volume, areas such as the buttocks can be stimulated and result in a rounder, firmer appearance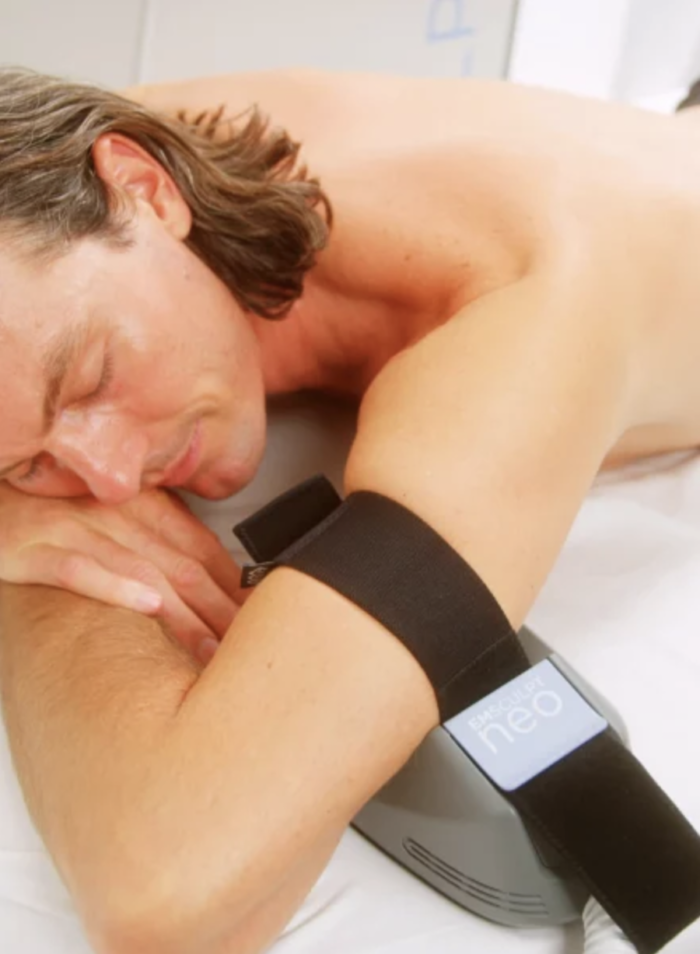 PROVEN RESULTS
Before & After Photos
Each patient's result may vary but the best time to see the final results is in 3 months after the last treatment.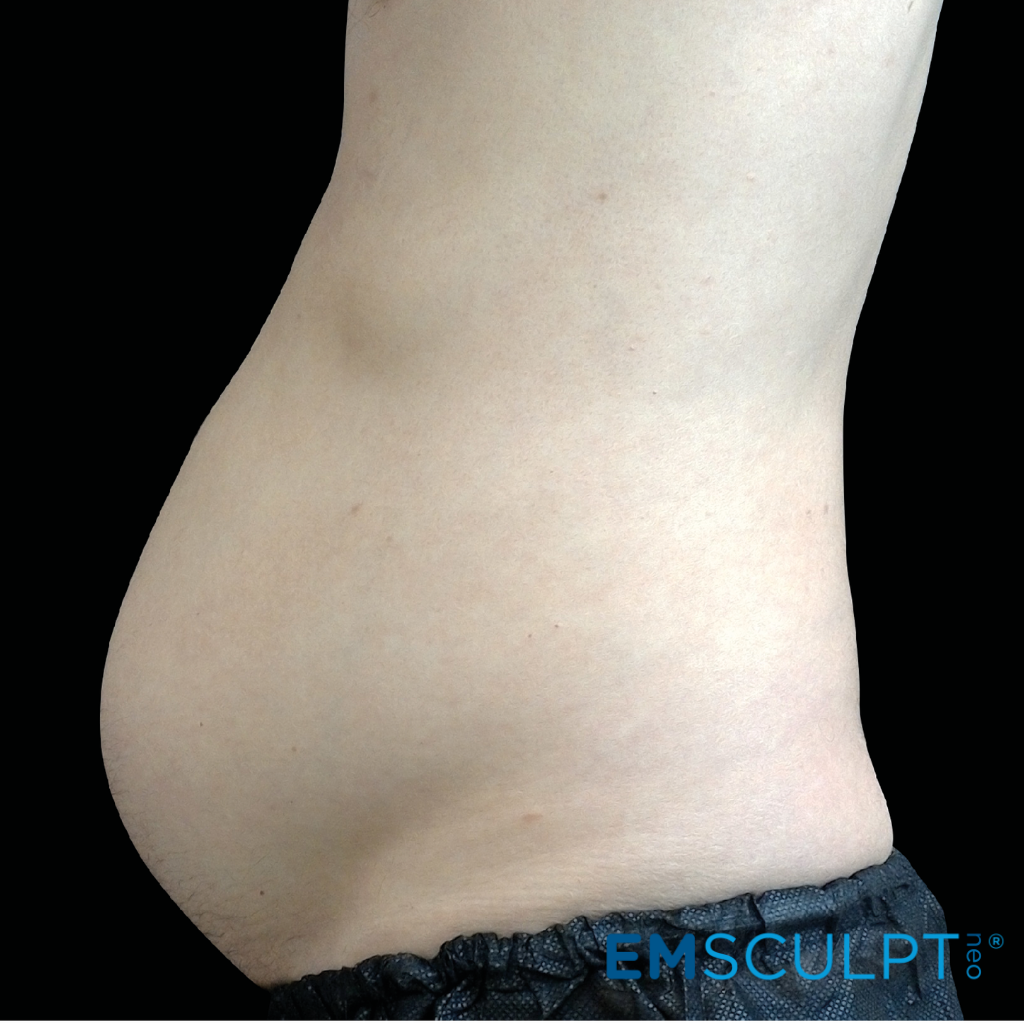 Need a Payment Plan?
PRE-QUALIFY IN 10 SECONDS
Plan Details
Must be 18 years or older
Pre-authorized Debit Only
Must be a Member
0% Interest If Paid In Full Within 12 months
FREQUENTLY ASKED QUESTIONS
Have Questions?
Call Us
(604) 261-9121
Are there any contraindications?
Patients with the following conditions may not be eligible for Emsculpt Neo:
Electronic implants (such as cardiac pacemakers, defibrillators and neurostimulator)
Metal implants
Drug pumps
Malignant tumor
Pulmonary insufficiency
Injured or otherwise impaired muscles
Cardiovascular diseases
Disturbance of temperature or pain perception
Hemorrhagic conditions
Septic conditions and empyema
Acute inflammations
Systemic or local infection such as osteomyelitis and tuberculosis
Contagious skin disease
Elevated body temperature
Pregnancy, postpartum period, nursing and menstruation
Basedow's disease
Who is an ideal candidate for the Emsculpt Neo?
Everybody can benefit from more muscles and less fat. That being said, it is required that you come into our clinic for consultation with a member of our highly qualified staff in order to ensure eligibility and so that we can discuss treatment goals and expectations.
What is the treatment time?
Four 30-minute treatments scheduled once a week are recommended. This can change depending on things like your treatment goals and current body composition. While each session is 30 minutes, expect your visit to the clinic to be 45-60 minutes to allow enough time for setting up and progression photos.
Is there any downtime? Any pre/post-treatment preparation?
Emsculpt Neo is a non-invasive procedure that requires no recovery time or any pre-treatment preparation.
What does it feel like?
The Emsculpt Neo procedure feels like an intense workout with a warming sensation in the treated area. You can lay down and relax during the treatment.
Does it really work?
Emsculpt Neo showed consistency in eliminating fat and/or building muscle in seven latest clinical studies. Moreover, 30 scientific publications make HIFEM the most intensively researched body contouring technology since its introduction in 2018.
What areas can I treat?
The Emsculpt Neo treatment can be used for contouring of the abdomen, buttocks, arms, and calves.
How fast will I see results?
You begin to feel tangible results right after the treatments. Positive results are usually reported two to four weeks after the last session and continue to improve for several weeks following treatment.
Is Emsculpt Neo suitable for patients with a BMI up to 35?
Yes! Emsculpt Neo can treat patients with BMI up to 35
What happens to the fat that is eliminated throughout the Emsculpt Neo procedure? Will the fat come back?
After the treatment, the dead fat cells are flushed out from the body through metabolic processes. Resulting in a permanent fat cell reduction.
Are there any special supplements or diets I need to follow before or after the Emsculpt Neo treatment?
Emsculpt Neo treatment does not require any pre-treatment preparations. You can resume your regular lifestyle right after the treatment. It is recommended to follow a healthy lifestyle, balanced diet and proper hydration for best results.
Will I lose weight with the Emsculpt Neo?
No, Emsculpt Neo procedure does not help with weight reduction. The therapy helps reduce your fat and build your muscles
How does the Emsculpt Neo compare to liposuction and non-invasive device alternatives?
Liposuction cannot be compared with Emsculpt Neo as Emsculpt Neo is a completely non-invasive procedure.It does not require surgery, needles, anesthesia, or any downtime. There is no other device in the aesthetic field that treats both fat and muscle in a single treatment.
What if I have a lower BMI and am only interested in building muscle? Is there a benefit for Emsculpt Neo's slimmer patients?
Even slimmer patients interested in muscle building can enjoy significant benefits when using the Emsculpt Neo. Clinical studies showed on average a 25% growth in muscle mass.